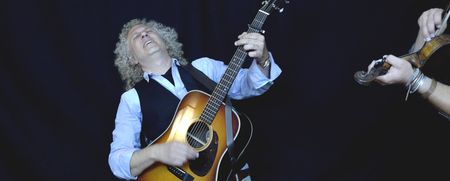 about...
Lloyd Frost is a Canadian singer-songwriter, acclaimed filmmaker, travel writer/photographer and psychiatrist. Social Commentary with a Groove is a recurring theme in his works. He also sings about real life ('In Everyone's Eyes', 'Santa Clara Town'), real people ('John Lennon's in the Rain'), birds ('Do You Hear the Nightingales'), a Goth Bar and more in his eclectic, quirky songs. His debut CD is The Sun Is Rising & Other True Stories. His second CD will be released in 2020.
Lloyd's short films are are a blend of music video and documentary, shot on location. Topics include life in the Castros' Cuba and living with terrorism attacks. His first two films have received awards in several categories...art film, music video, activist video and original song. Lloyd is now editing his next film, a narrative about life in a divided Berlin that features his songs, including the title song Berlin Waltz.
 *  *  *
2 questions for Lloyd...
So what's 'In Everyone's Eyes' about?
Hey, why don't you see any Cuban eyes in the film?
Well, the first one is easy! I wrote a song In Everyone's Eyes in Cuba during one of my many trips there. Then made a short film In Everyone Eyes (en todas las miradas) that began screening in 2013, followed by a Director's Cut In Everyone's Eyes - El ultimo! (2018). So yeah, it's about life in Cuba, when you're a Cuban. It could also be a metaphor. Not on a national scale, but something a bit closer to home.
Now the big question.  The answer was nicely paraphrased by a Cuban friend who I'd asked to participate in the film. Would she agree to be filmed, for just a few seconds of screen time, while never revealing her face? "No", she replied. "It's complicated." However unlikely it would be for her to be identified, she was scared!
It's dangerous to speak openly in Cuba. It's been this way for generations. Everyone complies or faces the consequences. Not being allowed to work at your job or chosen profession is one of the milder ones. Detentions, beatings and prison sentences also happen.
And so the eyes you see hovering over the Modelo Prison in the film are...mine.
The song started to write itself in my head as I walked along bustling 23rd Street where it crosses La Rampa, in Havana. I completed it a week or so later in the eastern town of Bayamo where the Cuban national anthem was written.
The studio recording of In Everyone's Eyes started in Canada, and continued in Managua where I met Nicaraga's musical icon Luis Enrique Mejia Godoy. Luis Enrique generously organized the session, bringing in his trumpet and horn players and his percussionista.
During the session, I mentioned that I'd like to make a film of the song. And how a friend had imagined me walking on the Havana malecon, women with fruit in their hair on either side of me! I knew that was impossible. Blatantly participating that way in a counter-revolutionary video would have consequences...
"We have a malecon here! You can make it in Managua," exclaimed one of the musicians.
I know the esplanade along the waterfront in Managua - and also the one in Havana, where waves crash over the seawall and fly high in the air, hanging suspended in time before before crashing to the wet pavement. Where the sea air can be cool and breezy, or blistering hot and stifling. Where people are hanging out or walking around.
"Well," I said, "it just wouldn't be the same."
There's no place I've ever been that's like Havana. Or any other place in Cuba, when you get right down to it. With its own twists and turns, warmth and paranoia, rules, and how to circumvent them.
So the film did get made. Totalmente en Cuba. On Havana's malecon and elsewhere in Havana, inside the Modelo Prison on the Isla de la Juventude and in towns like Remedios. And after Fidel Castro died in November 2016, I made the more pointed director's cut. Yes, Cubans did participate in my film. And you'll never see their eyes.
Lloyd Frost
December 2020                                                                                               
*   *   *